Comparison of policies on Climate Change - EU Elections 2019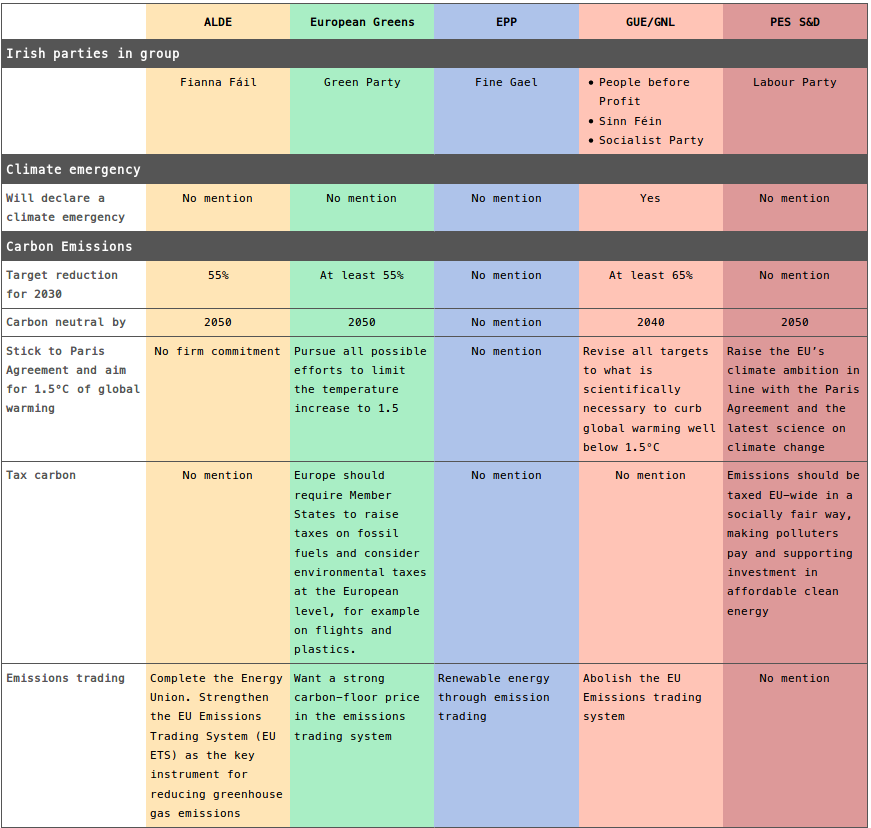 This post is a comparison of the Climate Change policies of the European political groups competing in the upcoming 2019 European elections. I have written it from an Irish perspective and it only covers groups that contain member parties running in Ireland. I have only taken information from the published party manifestos. My sources are below.
UPDATE: You can read an analysis of these policies in my follow up post.
---
EDIT 2023: When I wrote this analysis I was a member of the Irish Green Party, who in turn are a part of The European Greens. I am no longer a member of that party, but this post may be biased towards their policies, I leave it to you to judge.
This analysis is rooted in the time it was written, and since nothing has been done on climate in the years since, our response to the climate crisis must be much more radical than anything proposed here.
---
The EPP manifesto, which they link to from their home page, is from 2012. As that's the only document they seem to have published it's what I've used.
I do not have policies for the independents, or the political parties who have not chosen a group. I understand that that is a disadvantage to those candidates and I would recommend you research them yourself.
This comparison is only meant to be a starting point. You should research the parties yourself and make your own decision on who to vote for.
It is especially worth bearing in mind that the parties published their manifestos at different points in time, and may have published additional information after the fact.
If you believe any of this information is incorrect please contact me on twitter and I'll work to correct it.
* The Social Democrats and Independents 4 Change have stated they would discuss sitting with S&D and GUE/GNL respectively. This is not a guarantee that they will vote with those blocks.
Edits
2019-05-06 14:00: Corrected 'Target reduction for 2030' and position on emissions trading for GUE/GNL
2019-05-06 14:07: Adding link to PBP policies and note regarding party manifestos
2019-05-06 17:00: Added PES policies and section on agriculture after I was linked to the PES manifesto
2019-05-06 21:40: Correctly placed PBP and the Socialist party into GUE/GNL.
2019-05-07 10:35: Cleaned up intro to remove edit comments, moved disclosure below intro.
2019-05-17 11:35: Added PES to image.
2019-05-22 16:05: Added Social Democrats and Independents 4 Change.
Sources